What is Hazardous/special waste?
Hazardous/special waste is waste that contains materials that are classed as hazardous and could cause harm to human health or the environment.
For example used oil, materials containing asbestos, fluorescent light bulbs, contaminated soil.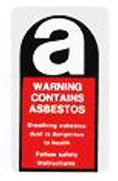 They are identified in the European Waste Catalogue (EWC) as "absolute hazardous" or they are "mirror entries" where it cannot be proved that they don't contain hazardous substances. 
Entries marked with an asterisk * are the wastes with hazardous properties.
NetRegs: European Waste Catalogue (EWC)  - waste codes 
You must store hazardous/special waste securely and you must keep it separate from other waste, and from other types of hazardous/special waste. This is part of your Duty of Care for Waste. 
NetRegs: Duty of care for waste 
Who is involved in the transfer of Hazardous/Special Waste?
The waste producer
Any person whose business activities produce waste. (The producer may sometimes also be the consignor)
The waste consignor
The person who organises the removal of waste from the premises where it has been held. (This could be a member of staff in the company, a waste broker or dealer, or the producer)
The waste carrier
The authorised person who transports the waste from the producer to the consignee. An authorised waste carrier.
The consignee
This means the person acting for the final destination of the waste. This could be the place where it is transferred on, recovered, recycled or disposed of.
Sometimes the waste carrier and the consignee will be the same, for example if a waste site also sends out vehicles and collects waste from customers.
The Environmental Regulator
This will be the NIEA or SEPA. The regulator maintains records of all movements of hazardous/special waste.
In this Guideline
What is Hazardous/Special Waste and who is involved in its transfer?
What you need when hazardous/special waste is removed from your site
PRE-notification of movements of hazardous/special waste
What does a consignment note look like?
Different types of collection for hazardous/special waste
How to complete a consignment note