Save water: save money in hair and beauty salons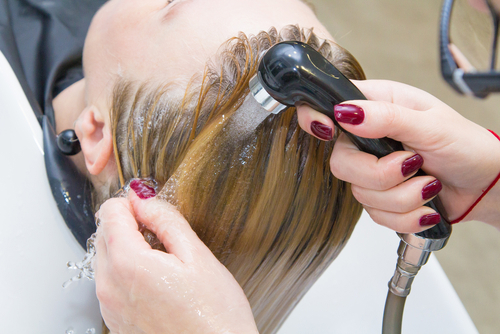 Businesses pay for the water they use, so making water efficiency an every day part of your work practices will save your business money as well as reducing its impact on the environment.
Start by monitoring water use and see where you use most water. This allows you to focus efforts on where most water is being used, and to record the reductions over time.
You can train and encourage staff to:
Shampoo once rather than twice
Turn the tap off between washes and report any leaks
Washing up/mopping floors – use half buckets as standard
 
Use water reducing basins/shower heads
Use low flow aerators; these can give you water savings of up to 10 litres/min per tap per use
Use shower heads that are designed to reduce water consumption. These can deliver water savings of up to 330 litres/day
Towels
You can use eco-towels. These can be made from a variety of materials such as bamboo pulp, or made from wood pulp which is a by-product, normally thrown away. They are more absorbent than towels, biodegradable and single-use, meaning you are guaranteed hygiene and you don't need any detergents, water and energy to clean them.
Segregated paper towels can be taken for composting or anaerobic digestion. Check with your waste contractor.
Elan Hair Design, winners of a VIBES awards has removed washing machines and switched to compostable towels, and installed a water-saving system and low flushing toilets, enabling it to reduce its water demand by more than 80 per cent.
Read the case study on the VIBES website
Cleaning
It is possible to almost eliminate the use of detergents by adopting a cleaning system that uses microfibers to clean mechanically rather than with water. A number of products exist that are designed for different applications, such as floor cleaning, furniture cleaning etc.
Also, rather than use disinfectants and anti-microbials it is possible to achieve a high standard of hygiene by using steam cleaners. These produce a small jet of steam and have low energy requirements. Hand held units are often rated at a maximum of around 1000watts.
There are products that combine microfiber and steam cleaning technologies.
Get a Sustainable Certificate for you and your salon!
Working with industry leaders and the All Party Political Group (includes Habia, Hair Council, NHF, VTCT) Eco Hair and Beauty have created TWO certifications.
1. Sustainable Stylist Certificate
2. Sustainable Salon Certificate
Complete our virtual salon training to get the Stylist certificate. Once most of the staff have completed this, the salon manager can complete the super quick and easy Salon Certificate form.
To find out more, see www.ecohairandbeauty.com
or get in touch: Ecohair@soton.ac.uk 
Further information
Eco Hair and Beauty: Advice to clients on saving water/energy
Eco Hair and Beauty: Sustainable hairdressing (powepoint)
Eco Hair and Beauty: Video clips
Any business that wants to reduce its water use should contact:
In Scotland - Resource Efficient Scotland
In Northern Ireland – WRAP Northern Ireland
The Virtual Salon
Ecohair and beauty have developed their Virtual Salon. You can log on and enter the virtual salon to learn about sustainable hair care in a fun and engaging way. Once finished you can get the Sustainable stylist certificate. Why not get all staff to work through the salon and be eligible for the Sustainable Salon Certificate.
Find out more ands sign up for your free access to the virtual salon.
Ecohair and Beauty: Virtual Salon