Cleaning equipment and machinery at golf clubs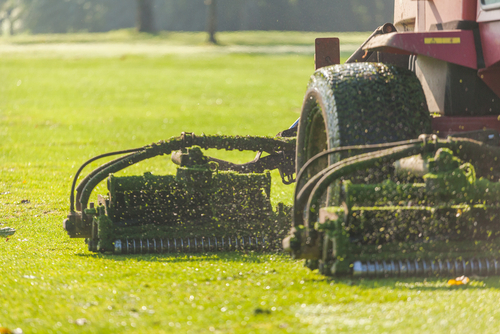 This guidance is applicable if you wash down vehicles or machinery used on golf courses e.g. grass cutting machinery/equipment and golf buggies. It is also relevant to you if someone else visits your site to clean vehicles, as it is your responsibility to ensure they do not cause pollution.
If you wash down equipment used to apply pesticides or if you wash your vehicles or machinery at a commercial vehicle wash such as a car wash, this guidance does not apply to you. For information on pesticide equipment washing visit our 'Pesticide or biocide equipment washing' guidance pages.
What you must do
You must not allow wash water to enter the water environment. This will cause pollution and you could be prosecuted. In Scotland you must leave at least a 10m buffer strip between your washing activities and any burn, ditch or loch, measured from the top of the bank, or any wetland or coastal water.
Washpad
Where possible wash down your equipment on a vegetated area well away from any watercourses or surface water drains. Alternatively try to use a raised area where the washings can run-off to a grass filter strip or swale.
Where suitable grassed areas are not available or you intend to collect the washings for disposal you may need to create a suitable wash pad area. This should be contained / bunded to allow the wash water to be directed through some form of grass trap. This could be a small chamber in the corner of the bunded area with a removable metal mesh to remove clippings. This should be cleaned and emptied at regular intervals and any waste removed from the grass trap should be appropriately disposed of.
Using water from surface waters or groundwater
If you use (abstract) water from surface water or groundwater for cleaning vehicles, you may need an authorisation from your environmental regulator. In Scotland refer to the CAR Practical Guide for further information.
Discharging wash water
In Northern Ireland If you want to discharge anything other than clean, uncontaminated water into a surface water drain, or directly into surface water or groundwater, you must have a discharge consent from the Northern Ireland Environment Agency (NIEA).
In Scotland, if you discharge anything to the water environment you may require an authorisation from SEPA - See SEPA: Water - Controlled Activities Regulations (CAR). Some discharges are authorised if you comply with the general binding rules (GBR). In such cases, you do not need to apply for authorisation from SEPA.
You must comply with the conditions of your authorisation.
If your business discharges trade effluent to a public sewer, you must have a valid trade effluent consent from your water and sewerage company.
Good practice
Remove pollutants before washing
Grass clippings contain a high quantity of Nitrogen and Phosphorous which can cause pollution if released into the water environment. Following grass cutting, use a maintenance track which will allow the majority of grass clippings to fall off the machinery wheels before you reach the maintenance yard.
Use water efficiently
Minimise water use by appropriately planning the frequency of wash downs.
Use brushes and air hoses where applicable to reduce water use.
Use trigger-operated spray guns. Make sure they have an automatic water supply cut-off.
You could use vehicle washing facilities and equipment that filter and reuse water, or set up a wash water recycling system.
Treat machinery wash water
There are various options available to treat machinery wash water, depending on the facility size, chemical activities and proximity to the water environment. These include:
Discharge direct to public foul sewer - The wash water will be treated in a waste water treatment works. You will be charged for this under your waste water charges. For further information contact your water and sewer provider.
Northern Ireland: Water UK - find your supplier
Scotland: Scotland on Tap - suppliers
Pipe to a sealed underground containment tank - Should be large enough to hold the full amount of washdown water. These will require regular emptying by a licensed contractor. 
Discharge to a grass filter strip or swale - This will cope with light background contamination (allowing degradation in the topsoil) and potentially could be built into the landscape of the course. A well designed swale with check dams to slow down the water flow may give sufficient treatment. For swale design download the Sustainable Urban Drainage Systems (SUDS) Manual (CIRIA C753 2015).
For further treatment, any flow passing across the filter strip or swale can be directed to:
A vegetated area. This can be an area of open ground away from any water courses or a 'designed' soakaway. If the discharge to vegetated area is in line with SEPA General Binding Rules (GBRs) 10 and 11, it will not need a registration or licence from SEPA. Refer to the CAR Practical Guide. 
A detention basin or pond for final treatment. Refer to the Sustainable Urban Drainage Systems (SUDS) Manual (CIRIA C753 2015)
A reed bed system that treats the waste water prior to release or reuse in wash down water is becoming a more appealing method of intercepting and treating washdown water. It can also create a new ecological habitat and can blend in well with the landscape of the golf course. They require minimal maintenance and when combined with another SUDS system on the course can be an additional control for surface water on the course.
Other designed filter system - There are suppliers working in the golf sector that provide technical filtering systems to remove particulates and oils from washdown water through a series of sumps and filtration sand and specialist granular activated carbon.
Biological wastewater treatment and recycling systems (closed loop systems) - Wash down water is filtered through a grass trap / sand filter and then treated biologically in above or below ground containers by micro-organisms to break down any contaminants. This produces clean water and carbon dioxide. Water passes through a final filter into secondary storage with a submersible pump for recycling the water back to the water gun/hose.
Cleaning chemicals
Minimise the amount of cleaning chemicals you use.
If you use detergents, choose biodegradable and phosphate-free products as they are less harmful to the environment.
Store all cleaning chemicals safely and in an area where you can contain spills. This should be within a secondary containment system (SCS) such as:
an impermeable bunded area
a bunded pallet or spill pallet
a bunded storage unit.
See our guidance on chemical storage for more information.
Train your staff
Train all staff to follow your machinery washing procedures. Display details of the procedures in the work area so staff can check them easily.
Further information relating to machinery washing
SEPA: CAR Practical guide (Adobe PDF - 562KB)
Scottish Golf -Environment - Machinery Wash Water Case Study