Prevent water pollution: manage acidic water from mining sites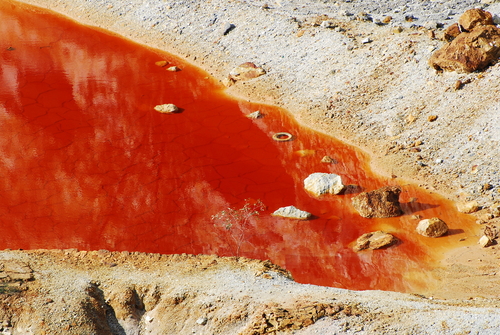 If you excavate coal, metal ores or other minerals, you may expose rocks and minerals that contain sulphur. If sulphur mixes with water and oxygen it can cause groundwater to become acidic. This is called acid mine drainage (AMD).

AMD can contain highly polluting substances such as lead, zinc, iron, mercury and cadmium. It often occurs when a mine is closed because any exposed sulphur will mix with water that floods the mine once you stop pumping the water out.

Contaminated water from spoil heaps and stockpiles of crushed and waste rock can also create an acidic discharge called acid rock drainage (ARD), although the term AMD is often used to cover both.
What you must do
If your business has a permit, licence or exemption you must comply with its conditions, including any conditions about surface water and groundwater. If you do not comply with conditions, you can be fined or sent to prison.
Does your business need a permit, licence or exemption?
You must comply with any conditions in your mineral planning consent, including conditions about AMD and ARD. If you breach the conditions for your site you may be liable for the costs of any clean up.
You may need consent from your regulator if you discharge to the public sewer, surface water or groundwater. For further information, see our guidance on discharges to water and sewer.
Good practice
Minimise the area of waste rock that you expose to the air.
Stockpile overburden and waste heaps on low permeability surfaces, such as hard standing areas or clay-rich soils.
Compact your stockpiles or waste heaps to reduce their exposure to oxygen and to minimise the amount of rainwater than can seep through.
Cap your finished waste heaps with impermeable materials, such as clay, to reduce rainwater leaching.
Collect and treat leachate before you discharge it.
Use alkali, such as limestone chips, to neutralise acidic material.
Collect and treat run-off from your site in lined settlement ponds.
Further information on acid mine drainage
British Geological Survey: Legislation and Policy - Mine waste
DAERA: Guidance for the Wise Use of Water in the Aggregates and Quarry Producers Industry
GOV.UK: About mine water and acid mine drainage
International Network for Acid Prevention: GARD guide
PIRAMID Consortium: Engineering guidelines for the passive remediation of acidic and/or metalliferous mine drainage and similar wastewaters
UK Parliament: Treatment of acid mine drainage (Adobe PDF - 242KB)
Read about More ways to prevent water pollution on NetRegs