| | |
| --- | --- |
| Relevant Business Topics: | |
What is Adaptation?
The evidence that our climate is changing is clear, and adaptation is the process of:
Dealing with current changes
Preparing for future changes
Detailed risk assessments have been carried out, and both the Northern Ireland Assembly and the Scottish Government have developed Climate Change Adaptation Programmes. Areas where action may be required include the fabric of buildings, flood risk, transport, crops and forestry, and heating or cooling in your buildings.
Key steps for a business involve: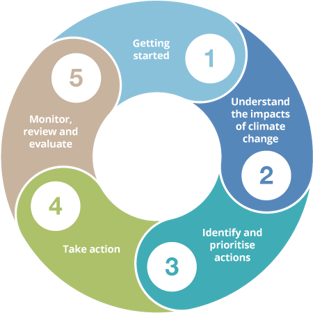 Get information and help
You can get information and practical help, and view case studies and good practice at:
Northern Ireland: Climate Northern Ireland
Scotland: Adaptation Scotland
Further information
Defra has published Climate Change Risk Assessments for Northern Ireland and Scotland:
Defra: Climate Change Risk Assessment for Northern Ireland
Defra: Climate change Risk Assessment for Scotland
You can also access Risk Assessments for a range of business sectors.
Defra: All Climate Change Risk Assessments
At the EU level:
Additional resources